Dermal Fillers
---
What is a Dermal Filler?
Dermal fillers are used for sculpturing and contouring facial features, softening lines, folds and wrinkles and to plump lips.
The most commonly used dermal fillers are Collagen based or Hyaluronic based. The solution is injected into the skin to add volume and create a more youthful appearance.
Teosyal®
Teosyal® is used to "fill" and smooth out smile lines, crows' feet, frown lines, worry lines, acne scars, small lines around the lips and some other facial lines. It can also be used to treat the border of the lips. This can add definition to the lip border for those who desire a fuller look.
Teosyal® is 100% hyaluronic acid based, biodegradable, completely reabsorable, and of non-animal origin. Hyaluronic Acid is a polysaccride that is found in the connective tissue of our dermis. Everyone ages, and over time, skin loses hyaluronic acid. As it diminishes, skin loses volume, increasing the chances for wrinkles and folds to appear.
Teosyal® gel is made from a natural material that provides support and cushioning within the skin.
Hyaluronic acid in combination with Collagen Fibres and Elastin Fibres give the face form, shape and hydration.
Teosyal® is the leading European dermal filler offering an exclusive range of products that help redefine the contours of your face in a very gentle and natural way.
Because it is similar to your naturally-occurring hyaluronan, there is no need to have a skin test before treatment. The procedure is quick and simple; a treatment may take as little as 30 minutes.
With Teosyal® the results are immediate and there is little or no recovery time. Most clients say that the treatment is quite comfortable.
Teosyal® Non-Surgical Face Lift: Volume Lift
Cheek enhancements may be desirable either to improve the definition over the cheek bones or to lift the mid face as part of facial rejuvenation. Teosyal® is an alternative to permanent cheek implants, which can be problematic as they sometimes cause infection or move, creating asymmetry in the face. Teosyal® injections are the only method available to achieve a similar result without the need for surgery.
Teosyal® is an ideal treatment choice for correcting volume lost through facial aging, restoring facial balance, symmetry and augmenting normal facial features, e.g., the cheeks and chin.
How does it work?
The Hyaluronic Acid in our bodies gives our skin its elasticity and hydration. These are the properties that make our skin look youthful. As we age these qualities naturally deteriorate leaving us with lines, wrinkles sunken cheeks and saggy skin. When we replace the hyaluronic acid with Teosyal® we fill up wrinkles and replace volume, giving an instant rejuvenating effect. As a long-lasting benefit, the treated area continues to improve on a more fundamental level. More collagen growth is encouraged and water is attracted to the area keeping your skin hydrated deep down
How long does it last?
Effects usually last about 6-9 months. Most clients choose to have a follow up treatment at around 6-12 months.
What is the Procedure?
Teosyal® is introduced just under the skin's surface through a very fine needle. It is injected at intervals along the line until the right amount of correction has been achieved. The treated area is then massaged gently to smooth the surface. For wrinkle treatment no pain relief is necessary, but clients always have a choice between an anaesthetic cream on the area or a local anaesthetic of the kind you might have at the dentist. Treatment takes about half an hour and the effect is immediate. Common reactions such as swelling, redness and sometimes bruising should be expected all of which normally disappear within 2-3 days.
Because Teosyal® is similar to the components of your own skin, it will gradually break down and be naturally absorbed by your body.
Redensity 2
Are you tired of people saying that you look TIRED all the time? Don't let your eyes show your age! We now offer a non-surgical option to treat under eye dark circles, hollows and fine lines around the eyes. Teosyal Redensity II® is the first dermal filler of its kind that has been formulated specifically for the tear through area for a subtle, natural look and feel. Combining hyaluronic acid and a blend of vitamins, antioxidants and amino-acids, Teosyal Redensity II® is truly a revolutionary dermal filler, allowing you to achieve brighter, refreshed looking eyes!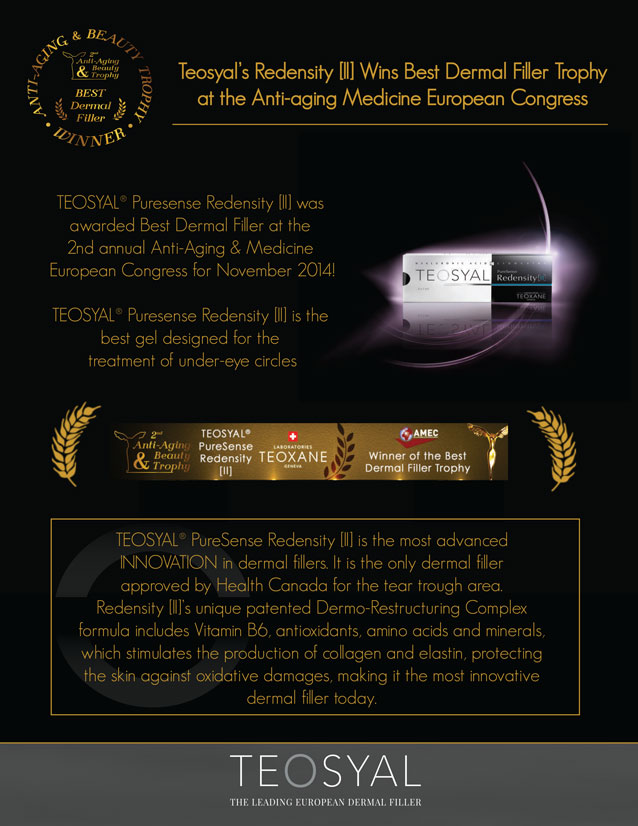 To discover more about Teosyal® at Refresh Med Spa by Norma and how we can help you, call now at 416 92 FRESH
(416 923 7374) or visit our Contact Us page.